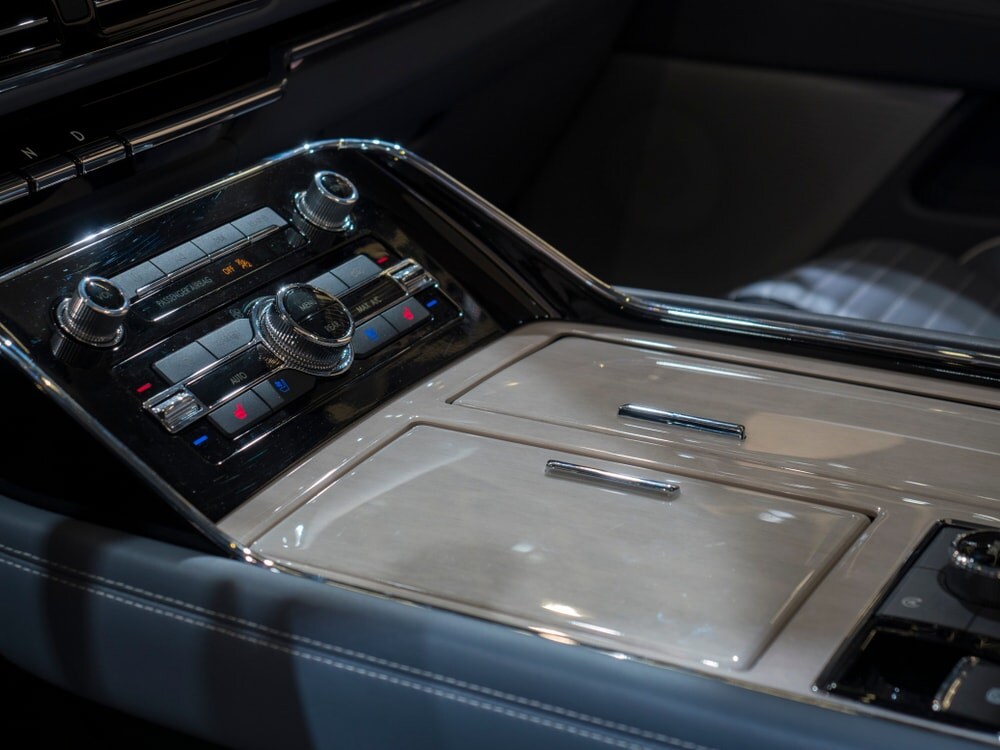 The new 2018 Lincoln Navigator has been given a host of high-tech features that are keeping this luxury vehicle on the forefront of modern convenience and design. Stunning, stylish, and engineered to perfection, you'll be sure to love the new amenities that make the 2018 Lincoln Navigator here at
Pines Lincoln Dealership
a total head-turner and master of the roadway.
Years ago, the Lincoln Navigator was the trend-setter for the ultimate in stylish SUV driving. Now, the 2018 Lincoln Navigator boasts a whole new set of technological and engineering advances that will be sure to give you an exhilarating driving experience.

First, the power. Prior models of Lincoln, while still powerful, only offered 380 horsepower. Not so with the new 2018 Lincoln. With an updated 3.5-liter V6 engine, horsepower has been increased to a sensational 450. The 2018 Lincoln is fast, robust, and sleek. But despite its beauty, it's also strong and sturdy.
In addition to its updated horsepower, this SUV is the top of its class in hauling capabilities. While older models of Lincoln Navigators could only tow 8,400 pounds worth, this model can handle a beastly 8,700 pounds.


Speaking of hauling, never worry if you'll have the space to handle cargo again. With the second and third passenger seating down, you'll have over 120 cubic feet worth of hauling space.
Despite its muscle, the 2018 Lincoln Navigator handles like a dream. Don't be fooled by its imposing size; this luxury ride is nimble and agile, making short work of your commute as you drive in style and comfort, whether you are taking advantage of all that cargo space or not.
Have to make a drive, but don't want to leave the convenience and warmth of your living room? With the new 2018 Lincoln Navigator, you don't have to. Equipped with high-tech features and gadgets, the 2018 Lincoln Navigator is your home away from home. The seating is roomy and as comfortable as your living room sofa, and not to mention, the interior is absolutely stunning. You don't have to sacrifice style for comfort.
High-tech features abound with 2018 Lincoln Navigator. Base models come with smartphone mirroring for either Android or iOS, and a WIFI hotspot. Regardless of where anyone is seated, there is tri-zone automatic climate control available to keep everyone comfortable, happy, and smiling even during extended travel.
With optional amenity upgrades, you can also take advantage of up to thirty ways to adjust your power seating. Even better, the driver's seat comes complete with a massage feature. Never worry about suffering from tension in heavy traffic again.
Customizable features are also on tap with the 2018 Lincoln Navigator. Save your comfort settings—from the seat, mirror, pedal, wheel, temperature, and even the radio presets—onto individual profiles linked to personal key fobs.
There is no need to compromise on either comfort, style, size, or safety. The 2018 Lincoln Navigator comes equipped with features to keep your ride as stress-free as possible during commutes short or long. There are lane departure warnings and forward collision mitigation. You'll be safe and cocooned from the world's frenzy in the 2018 Lincoln's cozy, quiet interior while you handle the road with agility and grace.
Here at Pines Lincoln Dealership in Fort Lauderdale, we believe your next dream on wheels is here waiting especially for you. Step inside today and take advantage of our Spring sales events and ride in style and comfort with the new 2018 Lincoln Navigator, your home away from home.