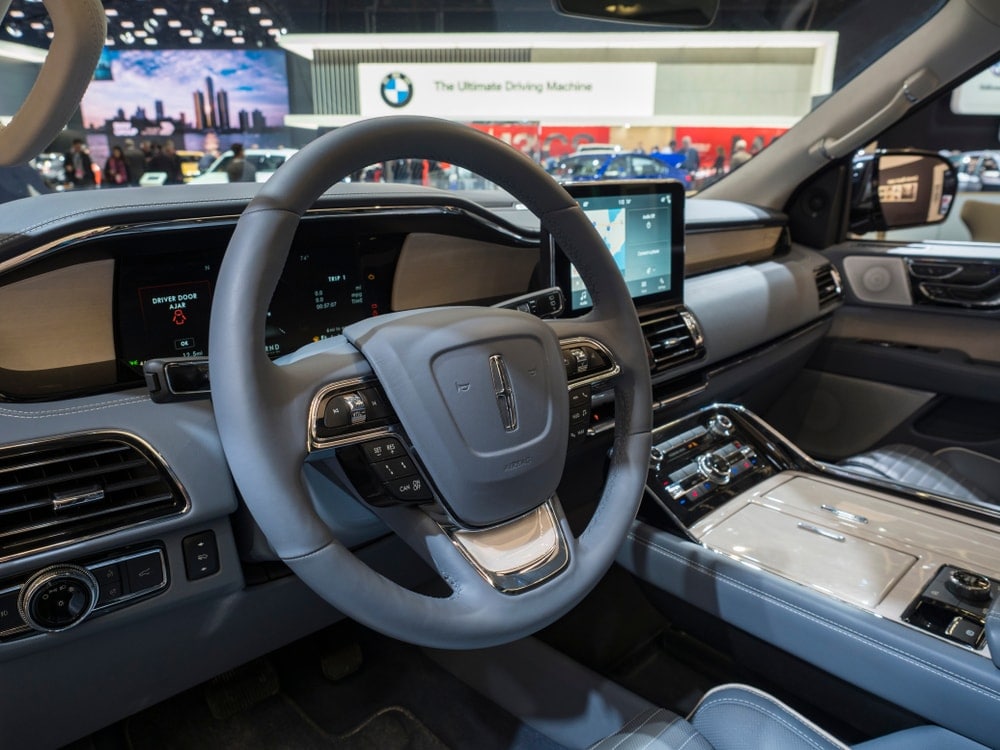 When the 2018 Lincoln Navigator hit the market, it made a big splash, and not just because of the
Matthew McConaughey-starring ads
, though they certainly helped. Its success relied on a rather simple concept: make luxury accessible.
For 2018, The Lincoln Navigator got a redesign that kept everything America loved about an SUV and then upgraded its looks and horsepower. It's the perfect solution for anyone looking for a family-friendly vehicle while also wanting to make a statement of class and refinement.
But what makes this car a slam dunk? Here are a few reasons why people love it so much:
Cargo for Days
Like most SUVs, the 2018 Lincoln Navigator is anything but tiny. It comes in two available sizes: a standard wheelbase or the larger, extended wheelbase, depending on how much cargo space you need.
The standard wheelbase already comes at a whopping 19.3 cubic feet capacity behind the third row, 57.5 cubic feet behind the second, and 103.3 cubic feet when the second and third rows are folded. With the extended wheelbase (or Navigator L) the numbers increase to 34.3, 73.3, and 120.2, making it the perfect vehicle for transporting bulky cargo.
Great Third-Row Comfort
Most SUVs try to offer passengers a great riding experience, and that starts with ensuring comfort and legroom within the vehicle. Still, the level of comfort tends to go down as you go further at the back of the car: the front rows are the best, the back rows tend to have a smaller space, so kids tend to get stuck with them.
But the Navigator doesn't fit that description at all. Its third-row seats have enough room for anyone to enjoy the ride, using a rear-axle suspension to wind up third-row space.
Easy Handling
With a big vehicle, it can be sometimes difficult to manage and drive, but Lincoln's size doesn't compromise its agility.
The new 2018 Lincoln Navigator is very fun to drive, both for the person behind the wheel and for the passengers experiencing the ride. Whether it's on a highway or suburban streets, the Navigator comes through.
It's Quiet
For all its qualities, this is probably one of the Navigator's best features: it's an incredibly silent vehicle.
The interior of the car does an excellent job at blocking out engine or outside noises, so the passengers inside can have a conversation during the ride. Considering that the engine alone is enough to make the ears ring, that's no easy task.
American Class
The style of the Navigator design is everything one would expect from an American vehicle: bold, rich, and a balanced twist of traditional and modern features.
Nothing about this car is subtle: a large, imposing grill in the front holds the logo that is surrounded by metallic tones. Inside the Navigator went with more earthy tones like mahogany that make for a more inviting surrounding. It's a statement vehicle, one that won't go unnoticed in your driveway.
Are You Looking to Purchase?
If there's any downside to the 2018 Lincoln Navigator, it would be its imposing size, though that's not a problem for those looking for a spacious SUV.
Think this is the car for you? Then set an appointment with Pines Lincoln, a leading Lincoln Dealership in Fort Lauderdale, and take it out for a test drive!