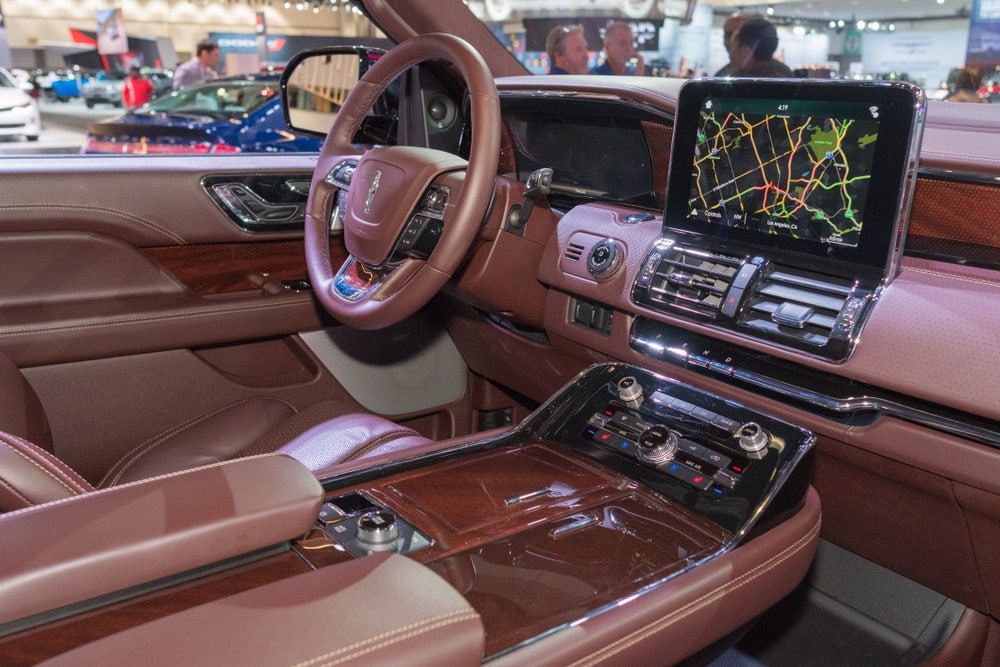 2018 Lincoln Navigator Review & Price

Hailed as one of the best luxury SUVs on the market, the price, security, safety, and design of the 2018 Lincoln Navigator is a dynamic masterpiece modernized machinery.
Take a tour of the 2018 Lincoln Navigator and see for yourself why this is the premier choice for your new family vehicle.
Raving Reviews
Expert reviewers have awarded the 2018 Lincoln Navigator with a 9.3 overall, according to U.S. News, with safety and comfort being a the forefront of their decision.
Ranked as #1 for Luxury Large SUVs, this vehicle has the combination of luxury and security to follow your dreams wherever they take you.
Here are a few of the specific pros that reviewers pointed out:
? Exorbitant Amount of Cargo Space
? Extremely Good Fuel Economy in its Class
? Three Spacious Rows of Supportive Seats
? Cushioned Ride
? Low Starting Price in its Class
Spectacular Specs
This four-door, seven passengers, rear-wheel driving modern marvel of luxury travel is equipped with an estimated 16/23 mpg for city/highway, with a 3.5-liter, Twin Turbo Premium Unleaded V-6 turbocharged engine.
Additionally, according to Car and Driver, the 2018 Lincoln Navigator has a powerful 10-Speed Automatic transmission with Selectshift included, in addition to paddle activation. Rear-wheel drive ensures that you are in control and a twenty-three-gallon gas tank will ensure you have exactly what you need to get wherever the road takes you.
For safety, the 2018 Lincoln Navigator specs are second to none, with BLIS blind spot sensors and cross traffic alert rear collision alerts, as well as tire-specific low tire pressure warnings and a backup camera, which includes a washer.
Plus, the warranty on this vehicle comes with a Basic four-year, or 50,000 Miles, a Drivetrain warranty of six years, or 70,000 Miles, and a five-year Corrosion warranty that is good for unlimited miles. Also, this vehicle is covered by roadside assistance that is for unlimited miles and unlimited years; which is sure to give you peace of mind for the lifetime of the car.
There is absolutely nothing this vehicle can't handle. Whether you are going on a family trip, cruising the open road, or going off the beaten path, the 2018 Lincoln Navigator specs are sure to supersede your expectations.
Premium Price
The MSRP on this vehicle starts at $72,055, which is a great base price for such a desirable vehicle.
While the lowest tier of this highly sought-after vehicle doesn't offer any add-on features, four-wheel drive, for the luxury adventurer is available for $2,655.
There are other varying models throughout the price points, with the highest end of the model, the Black Label 2018 Lincoln Navigator starts at $96,905.
This has all the add-ons of the previous models, with a few extra options thrown in, such as a rear-seat entertainment system and the 30-way seats for the same price.
In summation, the 2018 Lincoln Navigator is a wonderful choice for the family, the adventurer, or the businessman. This Lincoln model is aesthetically pleasing and intensely powerful. In short, it is everything you have come to expect from the latest Lincoln model and so much more.
If you're looking for a great deal on this unbelievable vehicle, come to Pines Lincoln. Pines Lincoln sells new and used Lincoln cars dealership in Pembroke Pines and strives to offer a plethora of quality automobiles. They consistently meet the range of needs from their customers Pembroke Pines, Fort Lauderdale, Plantation, Hollywood FL, Margate, and Miami.
Come to Pines Lincoln today to find your new favorite car!