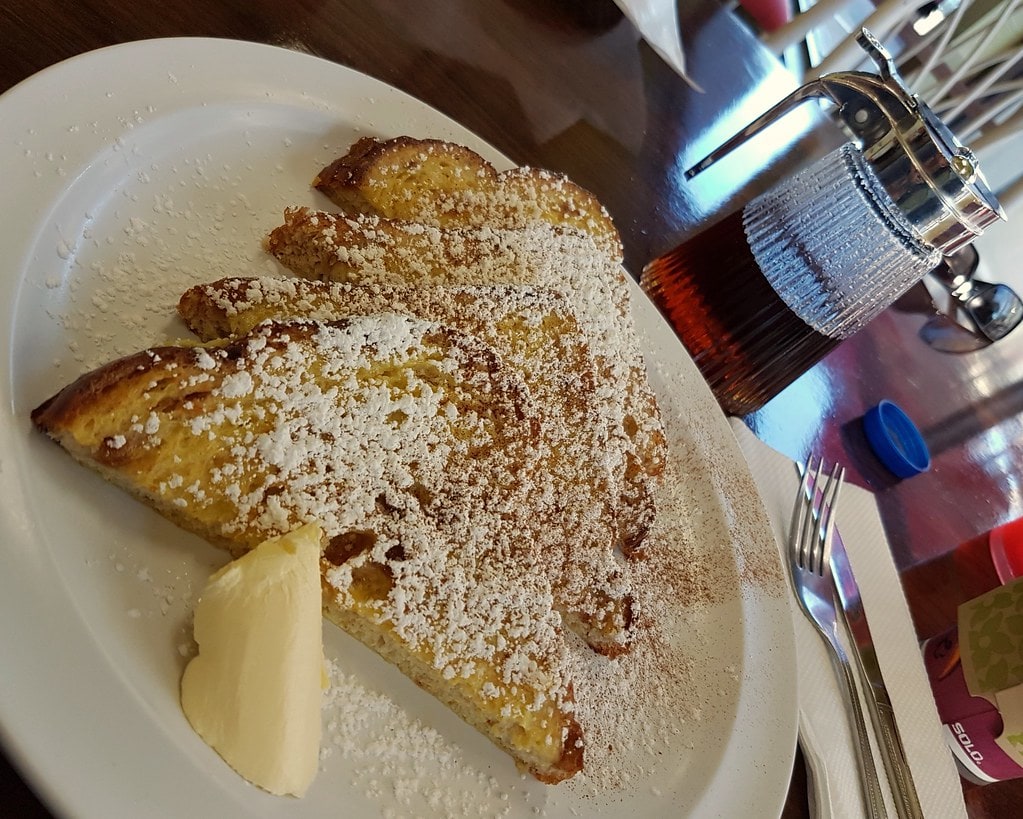 There is no denying that breakfast is a favorite meal for many Pembroke Pines residents to enjoy at local restaurants. With numerous menu options that include eggs, breakfast meats, pancakes, hash browns, and more, it's nearly impossible not to find a breakfast entree you like. Another very popular item to order out is French toast. However, not all French toast is created equal. If you're on the hunt for delicious options near you, here are four of the best French toast options in Pembroke Pines.
1. Another Broken Egg Cafe
Another Broken Egg Cafe is a Pembroke Pines Southern-inspired diner that offers a dizzying number of incredible menu items to choose from. When it comes to French toast, one of their specialties is the strawberry pound cake with fresh strawberries, whipped cream, and creme brulee sugar. Another popular choice is the cinnamon roll French toast with house-made French toast style cinnamon rolls that are topped with cream cheese icing, sauce, seasonal berries, and whipped cream. If these options sound too decadent, don't worry, there is also a classic French toast made with thick-sliced bread that is battered and grilled.
---
2. Metro Diner
Visit Metro Diner for more than just delicious French toast. The location of this historic Pembroke Pines eatery dates back to 1938 and was revived as Metro Diner in 1992. The menu has grown, but the family-owned spot has remained the same in every other way that's important. On the menu at Metro Diner, you'll find croissant French toast made using four pieces of croissants, battered and grilled. It has powdered sugar on top, but you can splurge and add strawberries, blueberries, bananas, or chocolate chips for an additional cost. The real show-stopper here is the Yo Hala French Toast, with house-made challah bread, cream cheese, berry compote, and bananas.
If Metro Diner sounds familiar, it was featured on "Diners, Drive-Ins, and Dives" with Guy Fieri.
3. Kristof's Kafe
Head a few miles north to Davie and stop in Kristof's Kafe for a variety of French toast options. You won't find just one French toast on the menu here — you actually have four different options to choose from. Online reviews rave about the deep-fried French toast and the strawberry and cream stuffed French toast. You can also try the cinnamon Challah French toast or the banana pecan one. This family-owned local favorite has been serving up delicious eats for over 15 years and is open every day of the week, except for a few holidays.
4. Untoasted
If you or someone in your dining party has dietary restrictions, Untoasted in Hallandale Beach is a great option. They not only have a large selection of French toast varieties, but they also offer vegan and gluten-free options. Regular French toast menu options include original, Tutti Frutti, banana dulce de leche, and banana bread pudding. Be sure to ask about the rotating daily special French toast, as well. If you want Untoasted at home, they offer delivery through GrubHub, Uber Eats, and more.
Next time you're having a hankering for French toast, you won't regret stopping at any of these delicious eateries in Pembroke Pines. From classic to deep-friend to celebrity-endorsed, there is no shortage of options for your French toast fix.