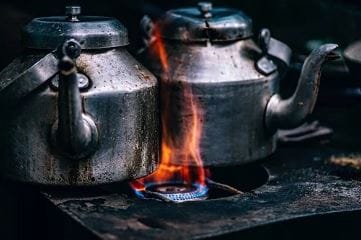 The plates of pasta in Pembroke Pines are prepared to perfection. Check out some of our favorite Italian restaurants in the area below, and you're sure to find one to love.
La Strega Cucina Italiana
For an Italian restaurant that takes pride in the preparation of every dish, head down to 17864 Northwest 2nd Street in Pembroke Pines. There you'll be able to indulge in some truly amazing Italian fare, including the customer-acclaimed lobster ravioli, chicken parmigiana, burrata con pepperoni arrostiti, tuna tartare, bucatini alla carbonara, rigatoni gamberi e pesto, and gnocchi a modo nostro. Patrons are regularly impressed by their kind, thoughtful, and well-trained staff, as well as the impressive skills of their chefs.
Napoli-style pizzas are available, including the margherita, quattro stagioni, and funghi varieties. Try their stinco d' agnello, a braised lamb shank served with parmesan risotto, if you have a hankering for more uncommon meat.
---
Brusketta Italian Caffe
At 12111 Taft Street in Pembroke Pines, you'll find a more down-to-earth kind of Italian restaurant. Brusketta's menu is packed with familiar favorites like Bolognese and pomodoro pasta with your choice of spaghetti, rigatoni, and linguini noodles. Gluten-free pasta is available, as are clams, mussels, calamari, shrimp, and more. Their lasagna is made with in-house-made pasta and bolognese sauce, so it is of a higher quality than lasagna made with packaged and canned ingredients.
When you arrive, ask your server about the fresh fish of the day. They vary by season and come with pasta, a house salad, and fresh veggies. For dessert, try out their delicious tiramisu, panna cotta, deconstructed cannoli, and in-house-baked cakes.
Capriccio Ristorante
For a more luxurious and refined dining experience, drive down to 2424 North University Drive in Pembroke Pines. Here you'll find a menu packed to the brim with amazing hand-crafted dishes, including antipasto misto, capriccio caprese, caponata, calamari fritti, mussels, mediteraneo, and lobster bisque soup. Their homemade gnocchi, available in genovese or alla vodka forms, is adored by their patrons, and their decadent lobster ravioli with vodka sauce is out of this world.
For a genuinely fantastic Italian dining experience, go with one of the Chef Select Entrees, including pollo primavera, pollo porcini, la parmigiana, veal capriccio, osso buco market, and more. For serious carnivores, they offer black truffle, garlic and herb, gorgonzola, and herb butter steaks and lamb racks.
Amarone
For an Italian experience including high-quality ingredients in the area prepared into a traditional selection of dishes, look no further than 15400 Biscayne Boulevard in nearby North Miami. At Amarone you'll find brick-oven pizzas, crispy focaccia, savory rigatoni della casa, creamy porcini mushroom risotto, and classic spaghetti and meatballs. Customers adore their frutti di mare, and vegetarians and vegans appreciate their meat-product-free options. Reservations are available, so be sure to book seats at one of their tables for yourself and your special someone.
Pembroke Pines and the surrounding area are ideal destinations for all lovers of Italian food. Try each of these grand restaurants out, and we're sure you'll be back again and again.