Are you craving some delicious Asian cuisine? The Pembroke Pines area is full of great Asian restaurants that are sure to satisfy your taste buds. Here are a few places you'll want to check out.
1. Kuro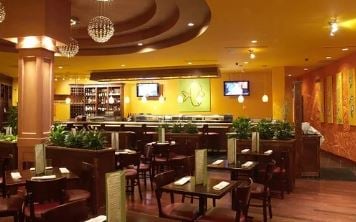 Kuro is a new-style Japanese restaurant in Hollywood, Florida, that serves modern artisanal dishes. Kuro supports the local community while also keeping its food authentic by sourcing its ingredients both locally and directly from Japan. Each menu item at Kuro offers bold and exciting flavors that will have you daydreaming about your next visit. A couple of their favorite menu items include wagyu tacos with spicy cilantro, soy shallots, and aji amarillo aioli, and Salmon Kare served with seasonal vegetables, cauliflower, and Japanese curry.
---
2. Eddie's Thai
Eddie's Thai is in Cooper City, Florida, just over 10 minutes from Pembroke Pines. They serve authentic Thai dishes that are prepared by professional Thai chefs. Every meal is fresh and made to order, so you know it will be a mouthwatering experience. A popular dish at Eddie's is the Pad Thai with chicken, shrimp, eggs, ground peanuts, bean sprouts, and green onions.
Seafood fanatics will love their seafood combination featuring sauteed shrimp, scallops, and squid with fresh ginger, Napa cabbage, onions, carrots, snow peas, mushrooms, and peppers. Their sauce options include Thai red curry, fresh hot basil, sweet red chili sauce, and garlic sauce red.
3. Pho 79
If you're in the mood for some Vietnamese food, you'll want to head to Pho 79 in Davie, Florida. It's less than 20 minutes from Pembroke Pines and definitely worth the drive. Each dish served at Pho 79 is unique and delicious. Some favorites include their Bun Bo Hue, rice platter, and egg rolls. Bun Bo Hue is a Vietnamese soup with rice vermicelli, lemongrass, fermented shrimp sauce, and beef. Pho 79's rice platter can be served with chicken, pork, Korean style short ribs, or grilled shrimp topped with a sunny-side-up egg.
Pho 79 also serves some unique beverages like Thai tea, soda salted lemonade, fresh coconut juice, and a blended fruit juice with kiwi, lychee, mango, and strawberry.
4. Dragon Gate Authentic Chinese Restaurant
Dragon Gate is located in Pembroke Pines, making it an easy choice if you're looking for a short drive. Their menu offers authentic Chinese food as well as wines and beverages. A few popular dishes include their orange chicken or beef and their chow mein with beef, shrimp, chicken, pork, or vegetable. Whether you're in the mood for some homemade soups, fried rice, noodles, seafood, or something else, Dragon Gate has a large menu with a multitude of Chinese foods to choose from.
If you want to enjoy your Chinese food in the comfort of your own home, you can order from their takeout menu. Dragon Gate delivers to a wide range of areas so that you can have your food delivered right to your door.
No matter what type of Asian style food your taste buds are seeking, you're sure to find a delicious restaurant near Pembroke Pines that will leave you feeling satisfied.