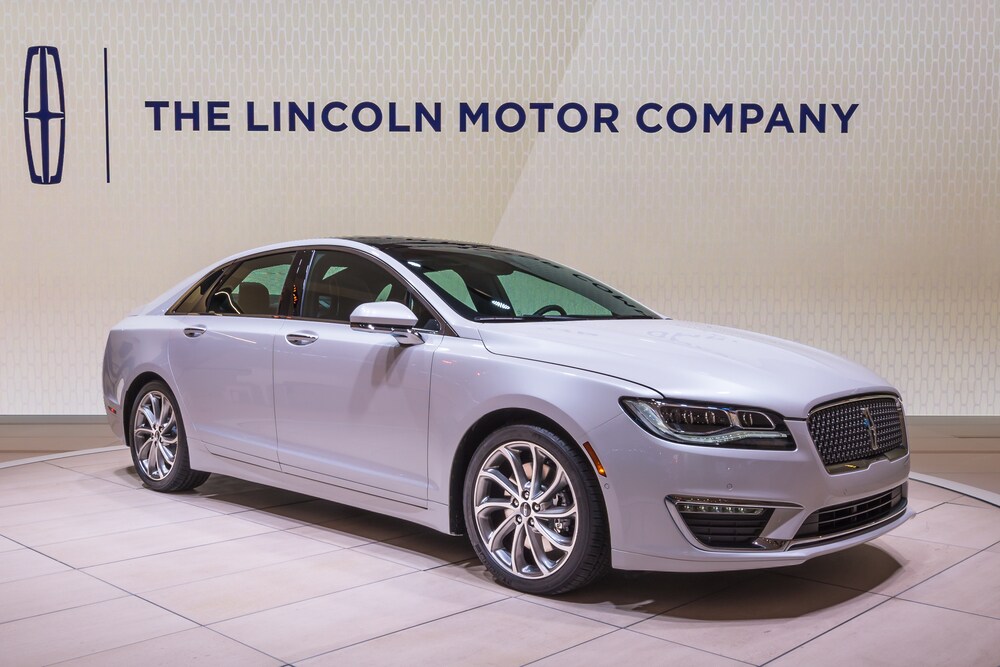 First unveiled in 2004, the Lincoln MKZ has quickly become one of Lincoln's top-selling cars, and it's not hard to see why – the bold design and fantastic innovation of this sedan makes it a great choice for anyone looking for a luxury vehicle.
The Lincoln MKZ is innovative, too – in 2011, the Lincoln MKZ Hybrid was revealed at the New York International Auto Show – the first ever Lincoln hybrid offering, this model used a four-cylinder engine to deliver 41 mpg city and 36mpg highway, making it the most fuel efficient luxury sedan in its class at the time of its initial unveiling.
The 2017 Lincoln MKZ features a hybrid option alongside a powerful V6, all in an all-new body inspired by the recently revived Lincoln Continental, as well as intriguing features like a push-button transmission selector. Let's take a deeper look at the new Lincoln MKZ.
Bold Design
The updated body of the 2017 Lincoln MKZ features a streamlined chassis and large, panoramic windshield and windows, along with a moonroof for great view of your surroundings. It has also been upgraded with LED running lights and a bold new grille inspired by the Lincolns of yesteryear – with a modern flourish.
The subtly swooping curves of the body are as aerodynamic as they are beautiful to look at, but are never flashy – luxury isn't about showing off. True luxury doesn't have to brag – it just has to be.
The interior has also received a facelift – modern leather furnishings are accented by flashes of matte metal and rich, vibrant wood for a contemporary feel that's comfortable and absolutely luxurious.
Innovative Technology
The new Lincoln MKZ features a host of innovative technological features, such as Lincoln Drive Control, which automatically adjusts the suspension based on your surroundings, and contains an integrated power-assisted steering system that helps achieve confident, comfortable control.
Other driver-aid features include adaptive cruise control with stop-and-go features – not only can the Lincoln MKZ adjust to slowing cars in front of you as you cruise, it can stop completely, and resume motion when traffic is flowing again.
Enhanced Active Parking Assist allows for an easier time getting in and out of tight spots, and an available collision detection system can detect unexpected objects on the roadway, warn the driver and take action if no input is detected, preventing collisions.
In addition, quality-of-life features such as SYNC© 3 technology allows for a comprehensive connection to smartphones, and the intelligently designed center console allows you simple, intuitive control of every feature included on the Lincoln MKZ.
Performance
The Lincoln MKZ offers optional all-wheel drive options, and three choices of engines – an I-4 turbocharged engine, I-4 hybrid, and a V6 turbocharged engine. The V6 engine offers 400hp in the all-wheel drive option, so if you're looking for maximum power, you'll find it in the 2017 Lincoln MKZ.
The conventionally-engined designs hover around 20-24 mpg combined, and the hybrid Lincoln MKZ offers a fantastic 40 combined mpg, making it one of the top picks for fuel economy in the luxury sedan market.
A smart, adjustable suspension and snappy transmission ensure great performance no matter which package you pick, giving the Lincoln MKZ, fantastic drivability.
Learn More At Pines Lincoln – South Florida's Favorite Lincoln Dealer
The Lincoln MKZ can't just be read about. It deserves to be seen. To felt. To be driven. If you're interested in getting your hands on a 2017 Lincoln MKZ, or even checking out other Lincoln models like the Lincoln Continental or Lincoln MKX, come into our Lincoln dealership today. We'd love to show you what's changed at Lincoln, and are happy to answer any questions you have about our lineup, offerings, and special deals.
Visit our website for more information, and schedule an appointment today.