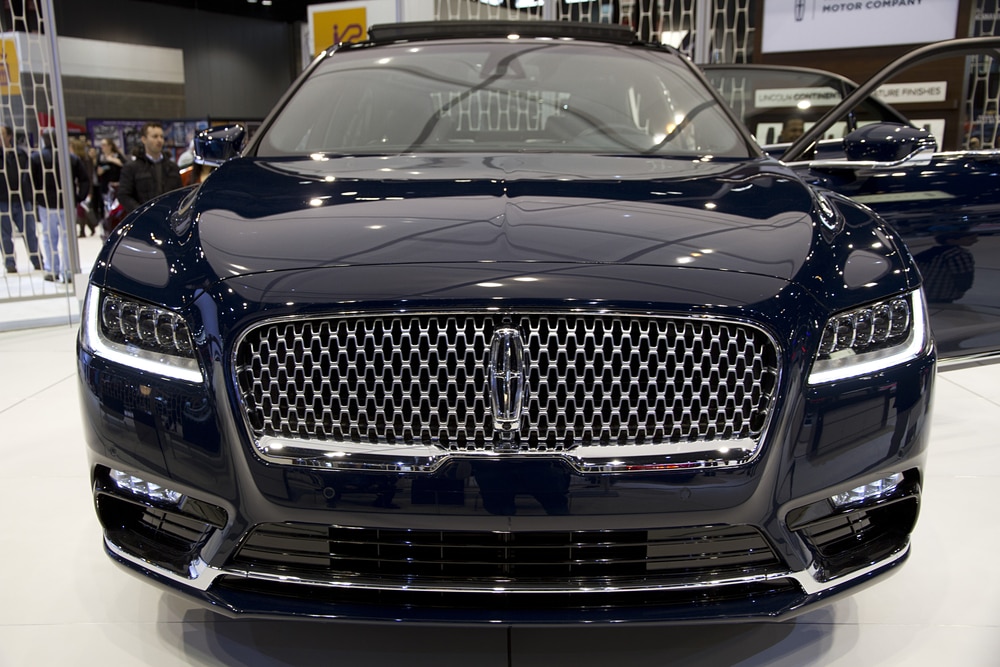 First built in 1939 under the Lincoln marque by Ford, the luxurious Lincoln Continental quickly grew to become Lincoln's flagship product, outpacing every other Lincoln offered by the 1950s.
Unfortunately, a variety of factors combined for the discontinuation of the Lincoln Continental in 2002, after an incredible 50-year, uninterrupted production run, being replaced by the Lincoln Town Car, Lincoln LS, and the Lincoln MKZ, introduced in 2009.

But legends never die, and after a 15 year hiatus, the Lincoln Continental has been announced – and it's going to be better than ever. Let's take a look at this new, revamped Lincoln flagship car.
Modern Styling
The tenth generation Lincoln Continental ain't your grandpa's Lincoln. This sleek, streamlined car is built on the Ford CD4 platform, the same modern chassis used in the new Lincoln MKT and Ford's modern Fusion midsize sedan.
And this new car has the looks to back up its prestige status as a luxury sedan – boasting a streamlined, sweeping body with a large Lincoln chrome grille and accents, and modern features like LED daytime running lights and fog lights, with hints of black helping lend contrast to these features.
The interior is similarly luxurious, with a flowing interior that minimizes seams and lines for a spacious, relaxing experience. It's built with premium materials, including a gorgeous leather that's soft to the touch, and surprisingly durable, and striking wood inlays that add an old-fashioned, vintage touch to this thoroughly modern sedan.
Comfort And Convenience
Built for luxury, it's no surprise that the new Lincoln Continental is as comfortable as it is convenient, boasting modern features like Ford SYNC© 3 systems, and options like a 19-speaker Revel© audio system.
Active noise control is also included with the new Continental, which enhances cabin sound quality by processing exterior noise and inverting the sound with a special processing unit – cancelling out unwanted sound and leading to a quiet, comfortable experience.
Enhanced Safety Features
Safety is paramount in a luxury car, so Lincoln has included available features like a 360-degree camera, which allows you to maneuver comfortably in any direction in low-speed situations, using four cameras dotted around the body of the car to provide a bird's eye view of your vehicle. Don't worry about blind corners, alleys, or tight parking spaces – with this new technology, you'll have everything you need to deal with whatever comes your way.
Pre-Collision Assist with Pedestrian Detection is also available. This technology uses both radar and high-fidelity cameras to scan the road ahead, and gives warnings to the driver if a vehicle or pedestrian is blocking the way. If the driver is unresponsive, the vehicle will continue to pre-charge the brakes, and take action automatically if no user input is detected.
Luxurious Performance
Though the new Continental is about luxury, its performance hasn't suffered. Every version of this car comes with all-wheel drive, and a 6-speed automatic transmission with paddle shifters, and engine options range from a 305hp V6 to a turbocharged EcoBoost© V6 that develops over 400hp.
And despite the high performance of the engine and drivetrain, the new Lincoln Continental has a 19-20 mpg combined, putting it a cut above other large luxury sedans.
Find Out More At Pines Lincoln – Your Leading Lincoln Dealership!
If reading about the revamped 2017 Lincoln Continental has you curious about what's new at Lincoln, come visit us at Pines Lincoln. The leading Lincoln dealer in South Florida, Pines Lincoln has a huge variety of 2017 Lincoln models, including the all-new Lincoln Continental, the Lincoln MKZ and Lincoln MKX, and others.
So check out our website, and come in for a visit – we think you'll like what Lincoln has to offer.