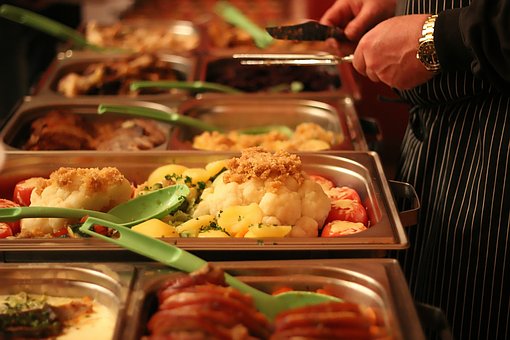 Traditional restaurants definitely have their advantages, but when you're really hungry there's nothing better than a buffet that's fully stocked with already cooked food. Those living in or around Pembroke Pines, Florida, are lucky to have a wide variety of delicious buffet restaurants in the immediate vicinity. Here are some of the best.
Chow Time Grill and Buffet
This place is home to one of the best buffets in town and offers a very wide selection of foods from different cultures and continents. What makes it special is that the food in the buffet is not precooked. Customers simply select their favorite ingredients from a large selection of meats, seafood, and vegetables, and then hand them over to the chef. He then uses his skill and expertise to quickly create a tasty and great looking dish. This unique style of cooking means that no two meals are exactly alike, so multiple visits will result in many delicious meals.
---
Nori Tori Sushi Buffet
Although the name might suggest otherwise, there are many other buffet options at Nori Tori besides sushi. Located on Pines Boulevard, it is home to a varied selection of American and Chinese food, plus a wide variety of sushi. Their special weekend dinner menu includes exotic dishes such as oyster and crab legs, but also local favorites, such as prime ribs. Besides the delicious and varied food options, this place also has friendly and knowledgeable staff and is perfect for all sorts of parties.
Golden Corral Buffet & Grill
This famous restaurant chain started with a restaurant opened in Fayetteville, North Carolina, back in 1973. From the start, their goal was to offer their customers meals that were both high quality and affordable, served by hospitable staff in a friendly environment. Almost half a century later, it is fair to say that they succeeded, as they are widely seen as America's number one buffet and grill.
Their "endless buffet" has an excellent selection of over 150 food items for breakfast, brunch, lunch, and dinner. It features something for everyone and the wide variety means that you can experiment with new things every time you visit. From all kinds of meat to seafood, fresh salads, and even mac and cheese, you'll definitely find something you're passionate about.
Cuba Lives
Cuban cuisine is absolutely amazing and this place is the perfect proof for that. It's the first Cuban buffet in South Florida and the owner's goal is to maintain a cozy and intimate atmosphere with simple but delicious food. They manage to create an authentic home dining experience, allowing their guests to literally feel like home. Of course, the food needs to match the excellent atmosphere and a team of highly knowledgeable professionals is there to make sure that happens.
Buffets will always be a fast and convenient way to have a meal. By visiting any of these places you will be able to experiment with different kinds of delicious foods and ingredients, expertly cooked by professionals in a lovely atmosphere.