If you're in the Pembroke Pines area and craving some quality pizza, you're in luck — Pembroke Pines is brimming with great pizza choices. Here are just a few of the best pizza places in the area.
1. Coley's Pizza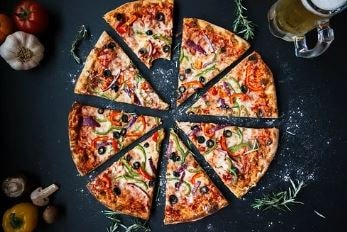 Coley's Pizza's owner, Nicole Jacklyn Herzlich, had a dream to create a pizza place where folks from all walks of life could dine and feel at home. This dream became a reality with Coley's Pizza. This restaurant is known for its fun, modern feel and unique pizzas like the Burger Bonanza, Greece Lightning, and the Wake Up Call. The Burger Bonanza is made with ground beef and curly fries and then topped with a mix of American and mozzarella cheese. Condiment choices for this wacky pizza include ketchup, mustard, and mayonnaise.
The Greece Lightning pizza has fresh spinach, tomatoes, onions, green peppers, and black olives layered over a red sauce and then topped with crumbled feta and shredded mozzarella cheese. Wake Up Call is a breakfast pizza made with scrambled eggs covered in mozzarella cheese and then topped with your choice of any three toppings.

---
2. Jersey John's Pizzeria
You know you'll enjoy a delicious New York-style pizza at Jersey John's Pizzeria because they make sure that they specialize in every item they put on their menu. They use fresh ingredients and prepare their dough and sauce from scratch, including their gluten-free dough. From their Hawaiian Pizza with pineapple, ham, and extra cheese to their classic Margarita Pizza topped with fresh sliced tomatoes, fresh basil, arugula, and mozzarella, you're sure to have a mouthwatering experience.
3. John the Baker
If you're looking for a classic Italian pizza, then John the Baker is the place to go. John the Baker has been serving authentic Italian foods like pasta dishes and hand-tossed pizzas since 1960. All of their pizzas are made fresh with love and care and without additives, fryers, or microwave ovens. Their menu features all of the classic pizza options as well as their famous Bruschetta Pizza.
4. MOD Pizza
MOD Pizza serves individual artisan-style pizzas with a modern made-on-demand approach. You can choose from over 30 fresh toppings, so whether you want a meaty dish or prefer the vegan approach, they'll have exactly what you're craving. The best part about their abundant topping options is that it all comes at the same price. The cost is the same no matter what toppings you choose. The baking process is quick with their 800-degree display oven. Simply create your pizza, and you'll be enjoying a delicious, fresh pizza within five minutes.
If you're not feeling creative, you can opt for one of their 11-inch classics like the Dominic with white sauce, Asiago, fresh chopped basil, red onion, sliced tomatoes, and mild sausage or the Tristan topped with mozzarella, Asiago, roasted red peppers, mushrooms, and pesto.
Whether you're craving a classic Italian pizza, New York-style, or pizza with a modern twist, Pembroke Pines has more than enough options to leave you wanting more.