Weekend brunches have become a staple for many people these days. Meeting friends and family, enjoying mimosas, and dining on delicious brunch fare is a fun way to spend a late morning or early afternoon. Here's a look at some of the best places for brunch in the Pembroke Pines, Florida, area.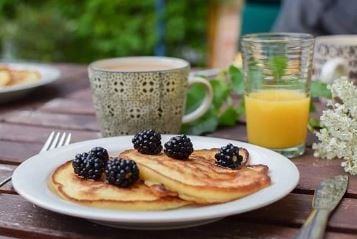 Club 19
Located on Taft Street in Pembroke Pines, Club 19 does an amazing brunch served only on Sundays from 10:00 a.m. until 2:00 p.m. Adults pay $38 and children are $16, and the fare is outstanding. Brioche French toast and sweet cheese blintz's with berries are just the beginning.
You can order the traditional eggs, Benedict, with Canadian bacon or try it with steak. Belgian waffles smothered in syrup and whipped cream are sure to delight. If it's a lighter fare you're after the assortment of scones are delicious.
The carving station serves up a variety of tender meats that changes weekly. Sliced baked ham, roasted turkey, mojo pork, and more are dished out in generous portions. Eggs are served up your way or you can create your own omelet at Club 19. Side dishes include classics like corned beef hash and sausage links, or you can try ham croquettes. However, you should try their signature sausage and potato hash.
They also offer a number of seafood dishes, from steamed or chilled Alaskan king crab legs and a chilled shrimp cocktail to smoked salmon topped with tomatoes, capers, and red onions. The black mussels Provencale are cooked to perfection, as are the cheesy shrimp and grits.
---
Brimstone Woodfire Grill
This family-owned and operated restaurant is one of the not so hidden gems in Pembroke Pines. Located on Southwest 5th Street, Brimstone Woodfire Grill cooks from scratch to deliver delicious food every day.
The menu is characterized by simple ingredients combined with skill and care to create a fabulous dish every time. The steak Benedict is made with tenderloins served over grilled asparagus, topped with poached eggs, and finished with their house-made hollandaise sauce.
The sweet potato and short rib hash is a decadent take on a classic. Braised short ribs that are pull-apart tender, sweet potatoes, shallots, and green onion are topped with a sunny side up egg. Thick cut French toast or their signature pancakes topped with bananas foster, coconut whipped cream, and pecans will send your taste buds into overdrive.
Kristof's Kafe
This family-owned and operated restaurant has been serving up some of the best food in the area for 15 years. They are located in nearby Davie, Florida, on West State Road 84. Breakfast is served until 3 p.m. every day, so every day is a brunch day at Kristof's Kafe.
The menu is full of classics like biscuits and gravy and country fried steak. Strawberry stuffed French toast, a selection of pancakes, and an omelet menu that will force you to return are a few of the great dishes you can expect to eat.
There are plenty of restaurants serving brunch these days. The next time you want a fantastic brunch, you should check out one of these great restaurants.