Miramar Regional Park is 173 acres of sunshine and activity. Whether you are there for a sporting event, for exercise, or just to play in the fresh outdoors, you will have a great time at this park. There's so much to do that you'll have to come back again to see and experience it all.

Have a Picnic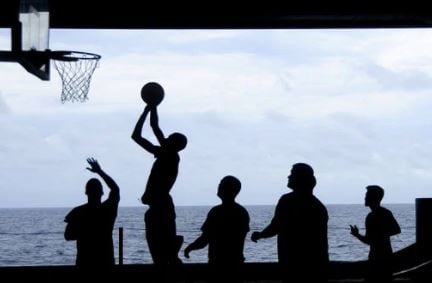 Bring your picnic basket and settle in at one of the pavilions or picnic tables throughout the park. Grills are available for cooking. If you are part of a large group, you can rent one of the pavilions in advance for a party or other get-together.



Play Some Basketball
Jump onto one of the basketball courts for a pick-up game with friends or strangers. Test your skills while you develop relationships and stay active.
---
Get a Workout
Two fitness areas give you the opportunity to strengthen your muscles and challenge your balance. Stay healthy and fit using these helpful amenities.



Take the Kids to Play
Two playgrounds at the park have swings, slides, and climbing equipment for young guests. Let your kids run off some energy and have a great time while you supervise from a bench or blanket. Or, choose to get in on the fun yourself.



Get Wet
The aquatic center has a pool where you can swim laps or have some playtime with your family in the water. Water splash pads shoot waterworks where kids and adults can stay cool.



Catch a Game
Community games are always going on at the park, so set up some lawn chairs and root for any team you like. Soccer, cricket, and football are just some of the activities you'll see going on at the park.



Go for a Walk
Take a peaceful stroll around the lake on the paved pathway through the park. Let the tranquility of the water soothe you as you walk along the easy path. The paved walkway is appropriate for wheelchairs and strollers.



Look for Wildlife
Keep your eyes wide open for signs of nature throughout the park. You'll see a variety of birds and also some small animals if you are paying attention.



See a Show
The amphitheater at the park is the venue for events and shows throughout the year. Check out the park website to find out what is happening and to plan which events you'd like to attend.



Bring the Dogs
Your four-legged friends will love to play off-leash at the park's dog park area. Bring along your best pals to enjoy some fun playtime together.



Stay for Sunset
The sunset over the lake is a beautiful site and marks the perfect ending to a day at the park, so be sure to stay long enough to catch it.

A visit to Miramar Regional Park is a great experience for people of all ages and for families to enjoy together. When you load up to head to the park, stop in at Pines Lincoln to take a close look at the fantastic selection of vehicles they offer. You're sure to find the right ride for you and your family.