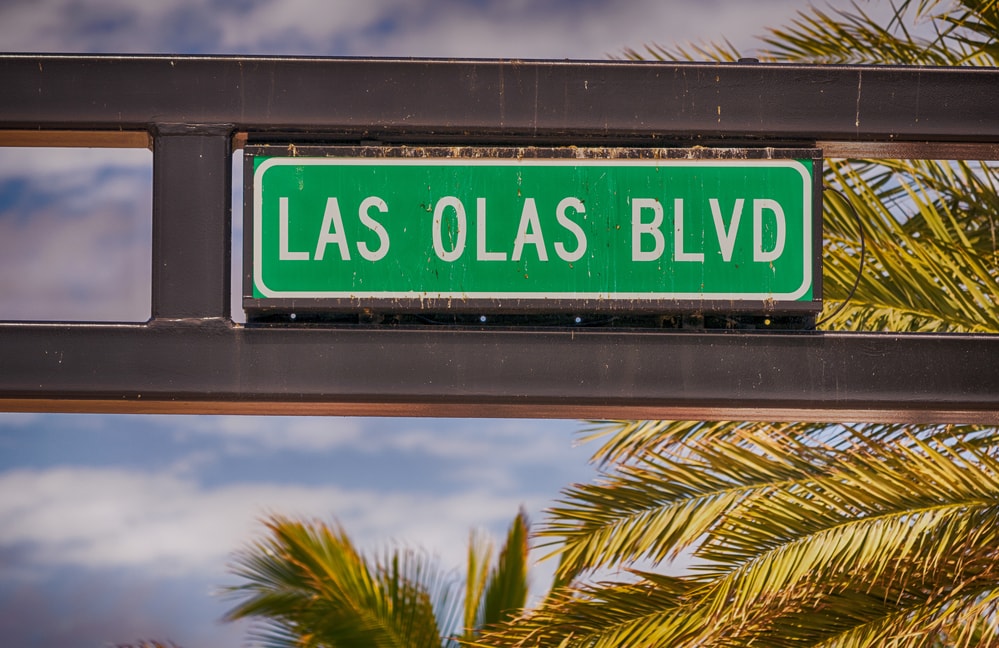 Las Olas Boulevard connects the A1A to the ocean. To the east, the boulevard is interlaced with canals, cool breezeways,
and courtyards, on which sit an exciting array of shops, restaurants, bars, galleries, and boutiques. There are plenty of reasons to love East Las Olas Boulevard: here are our top four.
---
1. Eating
Foodies are spoilt for choice on Las Olas. There's a massive and diverse collection of restaurants, cafes, bistros, and takeouts serving food from all across the globe. There are so many delicious eateries that several companies offer food tours, showcasing and sampling offerings from the best establishments. The Floridian is a Las Olas landmark. This casual eatery is open 24 hours a day and has been serving up classic Floridian fayre since 1937. If you're looking for something healthy, head to Eten.

Louie Bossi's high-energy Italian has a permanent crowd outside its doors waiting to eat authentic pasta, bread, gelato, and pastries. The stylish Chima Brazilian Steakhouse offers a fun dining experience with meats carved tableside. Big City Tavern offers a varied menu, with something to please everyone. For fine dining, Lobster Bar Sea Grille is a top choice for seafood lovers. If you're in the mood for music and sports, then try American Social's all-American food menu.


2. Drinking
Las Olas has a diverse nightlife scene. Whether you want a relaxing after-work drink, a wild night out, or happy hour cocktails, there's something for everyone. Vinos on Las Olas offers a refined selection of wine and craft brews that can be paired with tasty appetizers and charcuterie boards, and they have live music at weekends. Rocco's Tacos and Tequila Bar has over 400 varieties of tequila and are famous for their margaritas and guacamole.

On Wednesday, Thursday, Friday, and Saturday evenings, Timpano host live jazz musicians in their lounge. Guests can enjoy the music while sipping house-infused cocktails and grazing on appetizers. Always drink responsibly and do not drink and drive.

3. Shopping
Las Olas is a shoppers paradise with plenty of one-of-a-kind boutiques, major fashion houses, galleries, florists, and jewelers. Coomi uses high-quality gold and gemstones to create beautiful, one-of-a-kind jewelry pieces. New River Fine Art is one of South Florida's oldest and most prestigious galleries and is filled with museum-quality art. Women's clothing boutique Lilly Pulitzer is stocked with chic and colorful dresses, resort wear, and beachwear.

There are plenty more apparel and beachwear stores for the whole family. If you're looking for flowers or coffee, then head to Ann's Florist and coffee bar.


4. Arts and Culture
There are an array of art galleries on Las Olas, from fine art to arts and crafts made by local artisans. The NSU Art Museum contains 25,000 square feet of exhibition space and a permanent collection of more than 6,000 works. Visit the Stranahan House Museum and discover the history of Fort Lauderdale.

The Broward Center for the Performing Arts is located just off the boulevard. It presents more than 700 performances a year and ranks among the top ten most-visited theaters in the world.

There are plenty more reasons to love East Las Olas. Get out and explore the boulevard to discover your own. Next time you're in the area, stop by Pines Lincoln and check out our range of new and pre-owned vehicles.